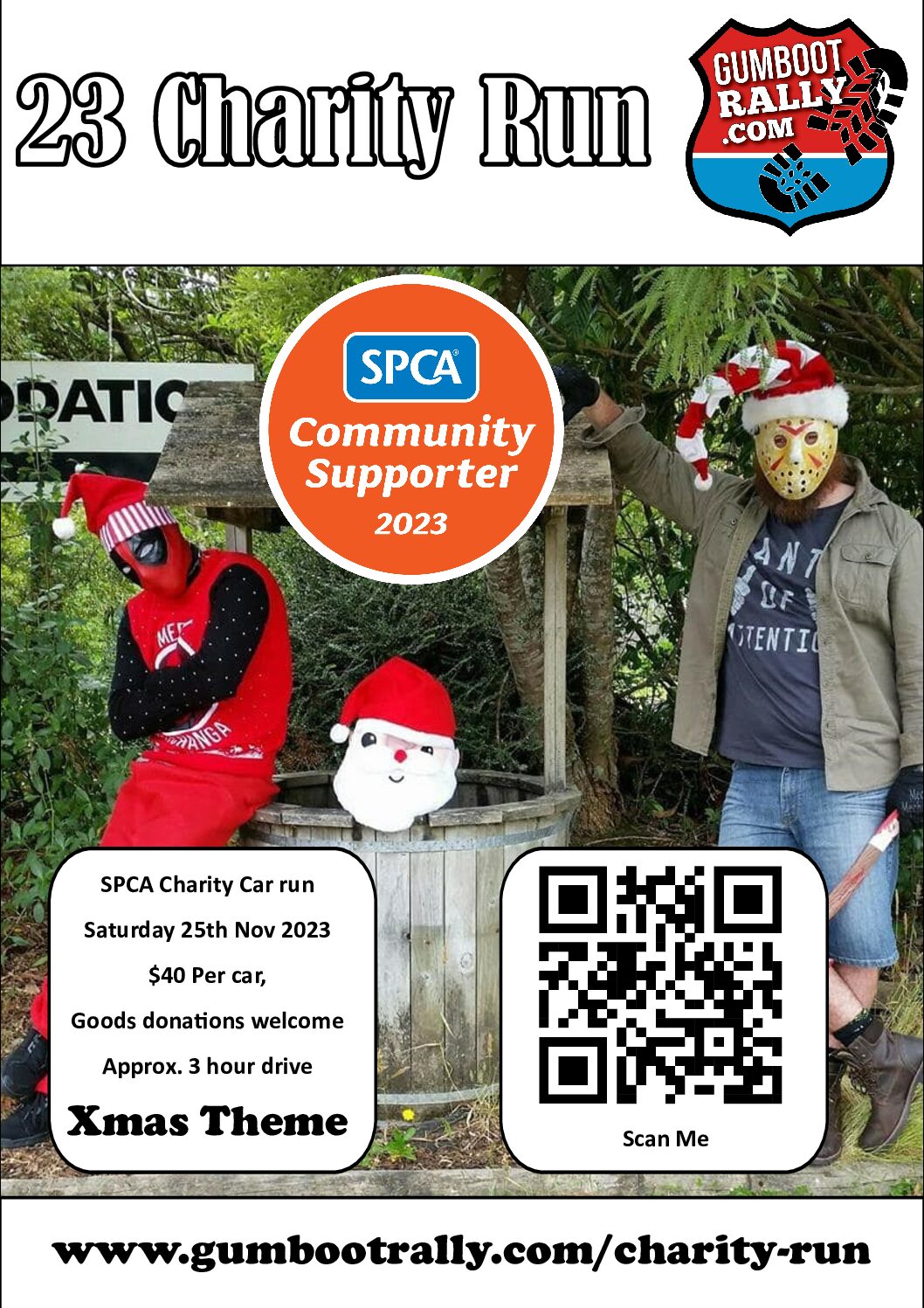 Gumboot Rally has partnered up with SPCA nz to bring you
2023 Gumboot Rally SPCA Charity Run 
Tickets are $40 online or $50 cash on the day
(Limited numbers of mission packs and stickers available on the day) 
11.30 AM Start-line will be Karapiro Lakes Cambridge.
Final Prizegiving will be held at the Cock & Bull Te Rapa (approx 3.5hrs)
The theme is CHRISTMAS so get your bells on and start handing out the Ho's 
$40 per car (including passengers) – as many as you can legally fit in your car 
All profits from this event will be donated to SPCA
Donations of the below are welcome 
Clean, old towels.
Unopened/sealed dry dog biscuits for medium – large breeds.
Unopened/sealed dry cat biscuits for adult cats.
Canned, non-refrigerated dog food and cat food.
$ Donations towards the desexing of community cats and for families going through financial hardship who urgently need their pet desexed to prevent future pregnancies.
Second hand excellent condition dog leads, dog collars, harnesses for medium or large dogs.
Hand knitted or crochet cat toys such as stuffed mice.
Hand knitted acrylic or fleece cat blankets approx. 50cm x 50cm.
Carry cage covers.
For your entry, you will receive a mission pack and sticker so people know you are part of our event. (if you turn up on the day number of supplies will be limited)
What to expect on the day
Meet up for registration at Karapiro Lake  and get a good chance to check out the rest of the cars and teams dressed up.   Then after a quick briefing from the Gumboot crew, we will head off on a scavenger hunt-style trip around the waikato taking a couple of our fav roads in the region.  Team Photos, find the vague clues and follow the directions "read your mission pack" all in a light-hearted fun day.
In the late afternoon, we will arrive back at the Cock & Bull , enter your answers for the day grab a refreshment from the Cash bar and some snacks from the onsite kitchen.  The final briefing and a short prize-giving will finish the official part of the day and then you are welcome to relax as the sun goes down.