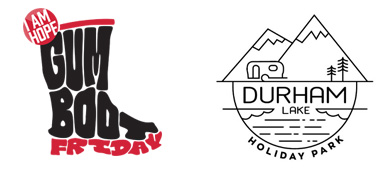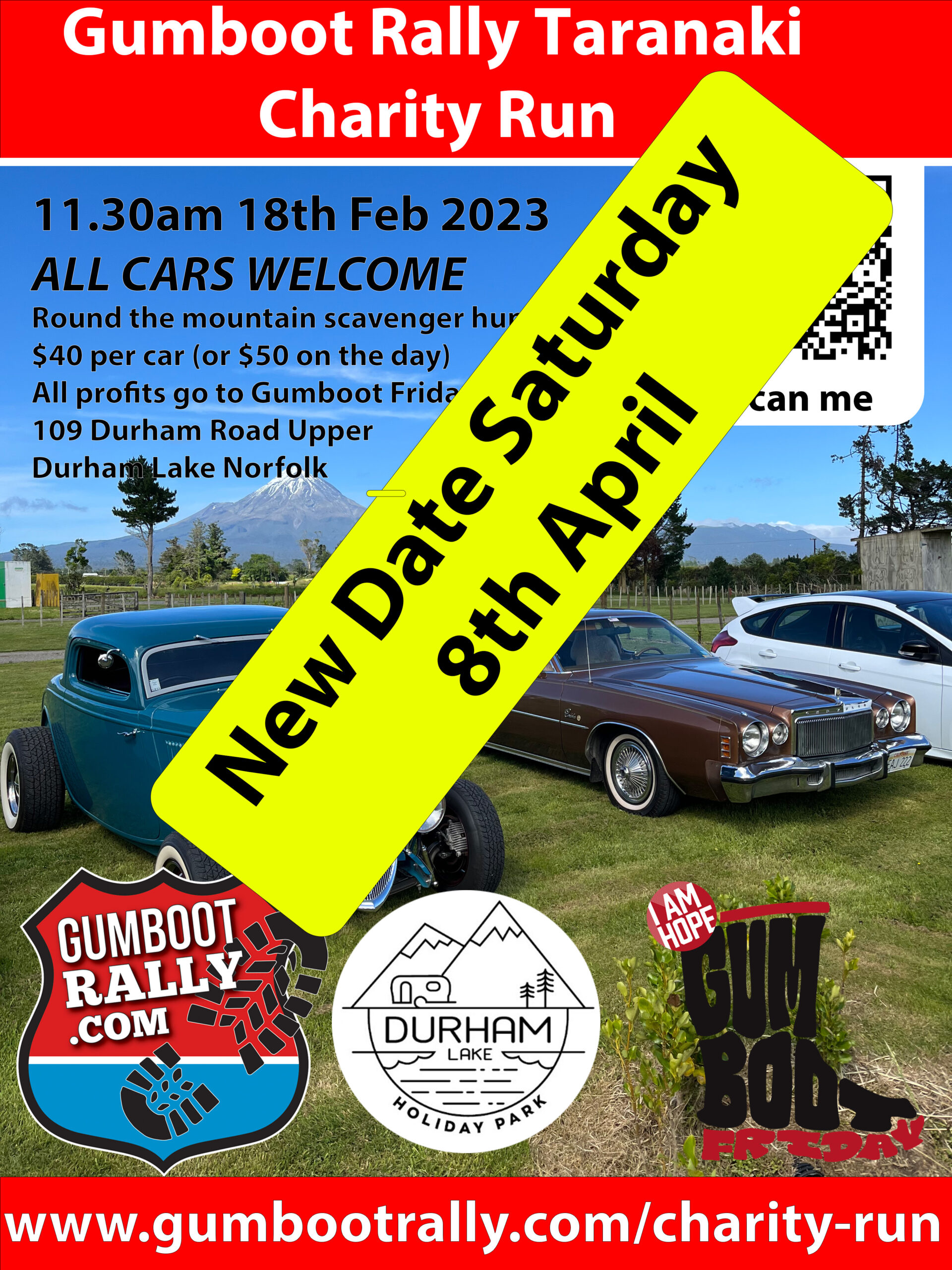 Event Postoned April TBC
Gumboot Rally has partnered up with Durham Lake Holiday Park to bring you Gumboot Rally Taranaki Charity Run.
Tickets are $40 online or $50 cash on the day
(Limited numbers of mission packs and stickers available on the day) 
Durham Lake to Durham Lake around the mountain (approx 3.5hrs)
Event postponed 
The theme is open and there will be a trophy voted on by the other teams so get noticed. 
$40 per car (including passengers) – as many as you can legally fit in your car 
All profits from this event will be donated to Gumboot Friday
For your entry, you will receive a mission pack and sticker so people know you are part of our event. (if you turn up on the day number of supplies will be limited)
What to expect on the day
Meet up for registration at Durham lake and get a good chance to check out the rest of the cars and teams dressed up and grab a coffee from the onsite Barrister.   Then after a quick briefing from the Gumboot crew, we will head off on a scavenger hunt-style trip around the mountain taking a couple of our fav roads in the region.  Team Photos, find the vague clues and follow the directions "read your mission pack" all in a light-hearted fun day.
In the late afternoon, we will arrive back at Durham Lake Holiday Park, enter your answers for the day grab a refreshment from the Cash bar and some snacks from the onsite kitchen.  The final briefing and a short prize-giving will finish the official part of the day and then you are welcome to relax as the sun goes down. 
Gumboot Friday is our free kid's counseling program.  Since April 2019 Gumboot Friday has raised over 3 million dollars for free kids' counseling. So far we've used 2 million dollars to pay for over 16,000 sessions for 3,900 kids aged 5 – 25yrs.  We anticipate that with the money we have and what we will raise over the next 12 months Gumboot Friday will pay for a further 20000 free sessions before the end of 2022.  To make sure 100% of the money raised for Gumboot Friday goes to our kids, I Am Hope pays the required 9 cents in every dollar donated to fund the admin costs of running the service.  IAH does not touch the GF money.  It is kept in a dedicated Kiwibank account and gets paid out upon an invoice from a New Zealand-accredited mental health professional.